Review Hugo Boss In Motion Electric
18 Apr 2008
Fragrance House : Hugo Boss
Fragrance Name : In Motion Electric Edition
Gender : Men
Official Site :
http://www.boss-fragrances.com/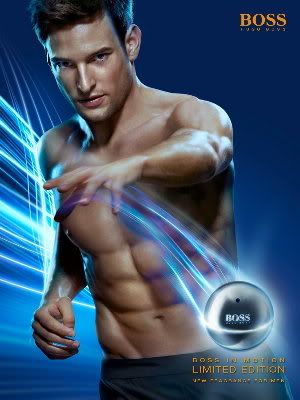 Review :
Review kali ini adalah tentang parfum Hugo Boss In Motion Electric Edition.
Hugo Boss In Motion Electric Edition ini termasuk dalam jenis parfum Woody Aromatic. Top Notes diawali dari kesegaran perpaduan dari Earl Grey Tea dan Aquatic Notes. Heart Notes terdiri dari Cardamom, Seville Orange, Violet Leaf. Base notes Patchouli, Sandalwood, Cedar.
Pertama disemprot notes yang lebih menonjol hingga 6 jam setelahnya adalah Tea, Aquatic Notes, Cardamom, Seville Orange dan Violet Leaf, aromanya mengingatkan saya akan kehangatan dari Hugo Boss Dark Blue, tapi tidak deep warm, middle warm karena diperkaya dengan campuran Earl Grey Tea dan sentuhan kesegaran aquatic, membuat kita ingin menghirup aromanya lebih dalam, Intoxicating. Pada jam ke 8 dan seterusnya setelah pertama kali disemprot maka tercium basenotes yang samar namun membuat kita merasa damai sewaktu menghirupnya, begitu lembut dan soft, perpaduan woods serta sedikit spices dalam kadar yang light.


Kesan yang didapatkan dari pengguna Hugo Boss In Motion Electric Edition ini adalah pria yang dinamis, gentlemen dan maskulin juga memiliki sex appeal yang tinggi - Sensual. Hey, lupakan kesan, bayangkan saja Tom Welling a.k.a Clark Kent si Smallville Boy memakai Hugo Boss In Motion Electric Edition untuk daily activity-nya, tentunya termasuk untuk menyelamatkan Lana Lang, Louis Lane dan sebagai God Amongst Men.
Daya tahan parfum ini sangat bagus, berkisar antara 11-15 jam, pertama disemprot pada jam 07.30 pagi dan digunakan untuk beraktifitas di ruangan cold office dengan suhu di bawah 22 derajat celcius dimana tidak banyak berkeringat dan base notes masih tercium samar hingga pukul 20.00. Sangat dianjurkan untuk cool office dengan suhu sekitar 25-28 derajat Celcius, Cold Office dan Evening. Untuk kisaran umur cocok digunakan pada usia 22-30 tahun :D
Untuk Perfume Lover's yang merasa bahwa Hugo Boss Dark Blue terlalu deep warm, dan lebih menyukai Hugo Energise, maka bisa dipastikan anda akan jatuh cinta pada Hugo Boss In Motion Electric Edition ini. Definitely Masculine, and Electrifying.
May The Scent Be With You.


Top Notes :
Tea, Aquatic Note
Heart Notes :
Cardamom, Seville Orange, Violet
Base Notes :
Patchouli, Sandalwood, Cedar
Scent Rate :

Scent Strength :
(Moderate)
Scent Life :
(11-15 Hours)
Recommended Use : Evening, Cool Office, Cold Office.
Recommended Age : Mature
Classification : Woody Aromatic
---
---